Expedition RV Covers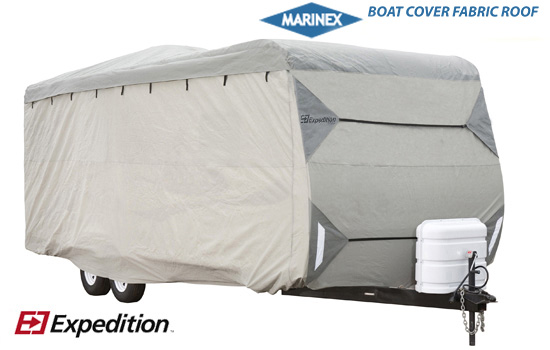 Expedition Series RV covers are designed for durability to protect your investment from the harshest weather conditions. Every one of our covers is crafted and manufactured to perform season after season for many years to come. Innovative features and fabrics make it truly the best value in protective coverings for your RV.
NEW! - Expedition now features MARINEX Marine Grade Waterproof Roof made of woven boat cover fabric for improved performance and longer life. Marinex boat cover material outperforms plastic Tyvek tops in terms of breathability and longevity. Every RV owner knows that moisture can do major damage to an RV. With the Marinex top you get great protection from rain, dirt, UV rays, heat etc, and you get superior breathability. This means that if your RV starts to build up moisture under the cover it can evaporate and escape. This is not always the case with heavily coated, polypropylene or plastic based covers. Trapped moisture typically leads to mildew, mold and rot, causing major damage.
EXPEDITION RV COVERS FEATURE
Marine grade boat cover fabric rooftop for maximum water resistance and durability

Treated with Durapel UV Sun Inhibitor for maximum sunlight protection of the fabric and maximum UV protection for your RV

Woven rooftop material allows for superior breathability compared to plastic and polypropylene tops to prevent rot and mildew

Sewn in dual flow vortex vents help to prevent billowing and promote air circulation

Zippered panels around the entire cover to allow access to any part of the vehicle

Adjustable front tension panels to remove unwanted slack

Reinforced corners add durability and longevity

Marine grade XT strapping and Quick Release buckles

Front and rear elastic hems ensure a snug custom fit

Protective ladder cap and patch kit included

Anti-hit reflective panels for added safety at night
---
EXPEDITION RV COVERS PRODUCT STYLES
TRAVEL TRAILER RV COVERS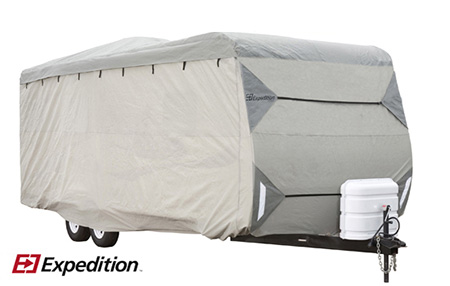 Once the summer travel season comes to an end, it is time to cover and protect your camper trailer from the upcoming rain & snow that accompanies winter. The inexpensive Expedition travel trailer RV cover will protect your camper from rain and snow and prevent water from entering your travel trailer.  The Expedition camper trailer cover is coated with a micro-porous film that allows superior breathability to prevent rot, mold and mildew from entering your camper or damaging the travel trailer's exterior while in storage during the winter months. The strong breathable 3 layered Expedition travel trailer cover is designed to protect your investment from the harshest snow & rainy conditions. All Expedition storage covers are designed for moderate climates and manufactured to protect the camper trailer each winter for many years to come.
---
CLASS A RV COVERS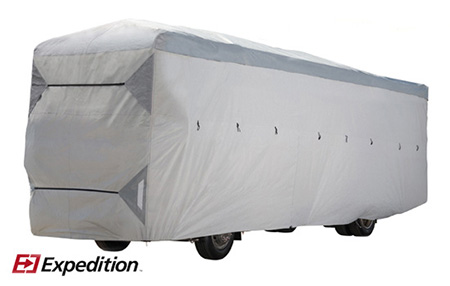 You can tell Class A RV's by their large size and boxy shape. This is the motorhome that is more like home. They are built on a larger chassis, often a bus or truck, but sometimes custom. At just 8 to 10 miles per gallon they aren't the most economical vehicles on the road – and did we mention that they are very large? Some are as long as 45 feet, but that means lots of space. Class A motorhomes are a favorite with RV full timers.These RVs are chock full of luxurious amenities. They can sleep 6, 8, even 10 people. Many have separate master bedrooms with sofas and dining sets that convert to beds. Some models have bunk beds in addition to the master bedroom. The kitchens are larger and fully equipped along with larger bathrooms.
---
CLASS B RV COVERS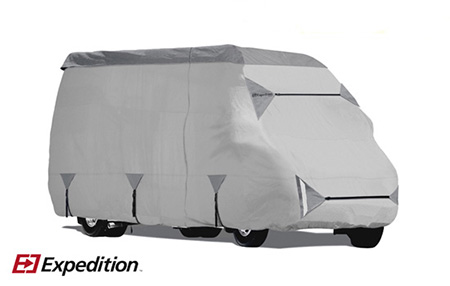 The Class B motorhome is the smallest of the classes. They tend to be better on fuel, but are short on space. While they do usually have a tiny kitchen, living room, and bathroom, they are rarely practical for full timing. Two people would fit well, but they might find it to be rather tight quarters. The size of these motorhomes gives them an advantage over larger models. Their smaller size makes them affordable, gives them better fuel economy, and allows them to be parked just about anywhere.
---


CLASS C RV COVERS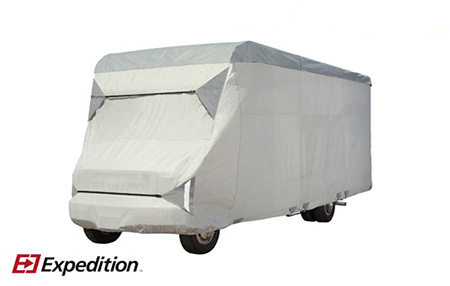 Class C RVs are somewhere between Class A and Class B. They are often built on a truck or van chassis that is specifically designed for a motorhome. They have an attached cab and most have an overhang that extends over the cab. This area is usually used as sleeping quarters but may also be used for storage. These motorhomes have similar amenities to Class A, but sport a much more budget friendly price tag. They aren't as great on fuel as Class B motorhomes, but are better than Class A. You can also fit more people and more stuff in these RVs than you can in the Class B.
---
5TH WHEEL RV COVERS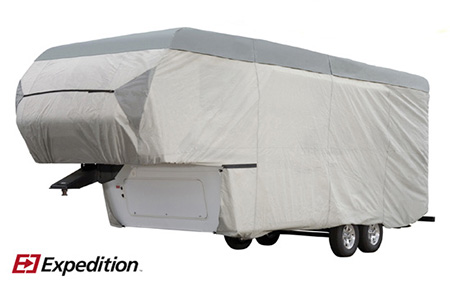 Fifth wheels provide you with the ultimate in living and storage space.  With the huge front "pass through" storage compartment located immediately behind the overhang, fifth wheels are the ideal choice for extended camping trips. The "split-level" design of the fifth wheel creates distinct areas for sleeping, bath, kitchen and living.  Many campers enjoy this multi-zone living arrangement.
---
TOY HAULER RV COVERS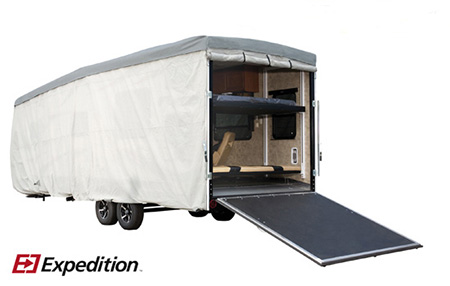 Toy haulers are RVs with a dedicated garage space for carrying outdoor recreation "toys," like dirt bikes, canoes, mountain bikes, kayaks and ATVs. They eliminate the need for an extra rack or trailer, and they make packing for an RV trip much more efficient.
---
POP UP CAMPER TRAILER COVERS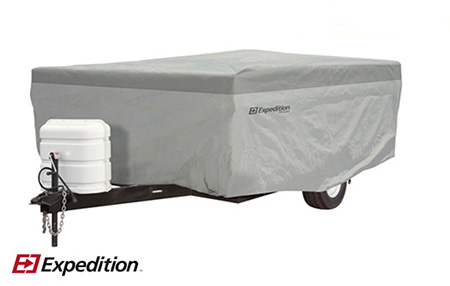 A Pop Up Camper is also known as a tent camper, tent trailer or folding trailer. These trailers are lightweight with pull-out bunks and tent walls that collapse for towing and storage. Pop Up Campers are easy to tow for most vehicles.
---
TRUCK CAMPER TRAILER COVERS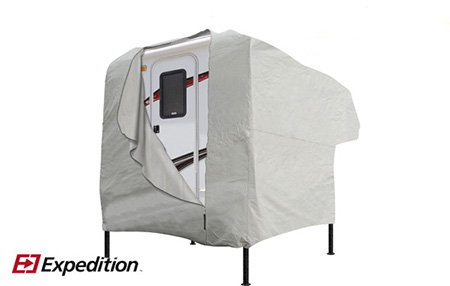 Truck Campers are typically known as the most versatile recreational vehicles. These trailers are capable of going almost anywhere a pickup truck can travel. In North America this RV style is often referred to as a "slide-in" or "cab-over."
Shop Truck Camper Trailer Covers?