SUV Covers - Select custom or Semi Custom
---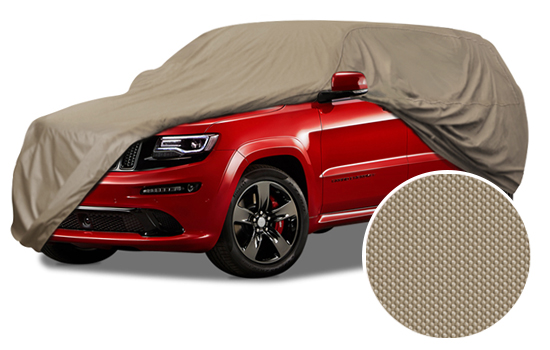 Unbeatable Selection and Value
Outdoor Cover Warehouse offers a wide variety of styles and performance levels for all types of SUVs. Suv covers from Outdoor Cover Warehouse are built to demanding quality specifications. Rest assured that our suv covers will protect your vehicle from the harshest elements that nature can dish out. Whether it's punishing UV rays, rain, snow, or ice, every one of our covers are designed and manufactured to perform season after season for years to come. Innovative features, quality fabric and best fit are all found in every one of our products.
Outdoor Cover Warehouse recognizes that not everyone has a garage. Without the protection of indoor garage storage, your suv is left outside to fend off the elements on its own. A suv cover is the next best thing. They offer your vehicle the protection it needs from harsh elements. Dirt, dust, rain, snow, hail and ultraviolet radiation are just some of the elements that can wreak havoc on an unprotected vehicle. Fortunately, your vehicle does not have to go into battle un-armed. Not only do suv covers provide protection from outdoor and indoor elements, they will also provide you with the peace of mind that your investment is protected from nature's fury.
When choosing suv covers, it is important to consider what you are protecting it from. Suv covers offer a range of protection for your vehicle. From basic all-weather protection to superior, element-specific protection.
Custom-Fit Suv Covers
Custom-fit suv covers are completely custom made for your specific suv.  If you're looking for a perfectly snug cover that hugs your vehicle's every line and curve, then a custom-fit suv cover is what you want! Coverking is the manufacturer of these premium covers, and offers dozens of highly specialized fabrics that are constructed to your vehicle's exact specifications. These beautiful suv covers are made-to-order in the fabric, color, and style of your choice.  The fabrics and materials used by these industry leaders are truly top-shelf.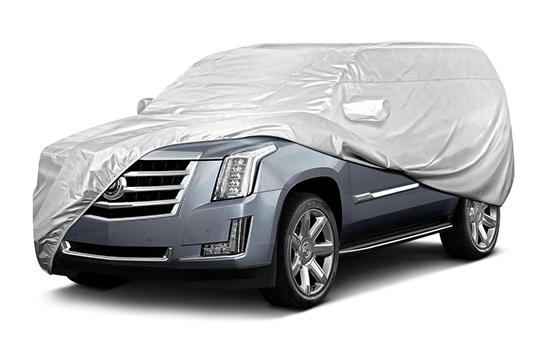 Outdoor Cover Warehouse carries a wide assortment of Coverking® custom-fit suv covers including:
Triguard™

Coverbond-4™

Mosom Plus™

Silverguard™

Satin Stretch Custom Covers™

Stormproof™

Autobody Armor™
Semi Custom Suv Covers
A "semi-custom" fit suv cover is a universal fit design that accommodates a variety of vehicles within a certain size group. Semi-custom covers are great for sharing between vehicles, whereas a custom-fit cover will only fit one specific vehicle. A semi-custom fit suv cover is a general or "casual" fit and is not perfectly tailored like a custom-fit suv cover is. Mirror pockets and antenna pockets are not included on a semi-custom cover.
Outdoor Cover Warehouse carries an assortment of Coverking® semi-custom suv covers including:
Coverguard™

Triguard™

Coverbond 4™
The Outdoor Cover Warehouse Advantage

Outdoor Cover Warehouse designs its own fabrics and works with the world's leading textile mills to handle manufacturing. With quality assurance teams dedicated to check every batch of fabric, Outdoor Cover Warehouse ensures that the material used in our products meet the most stringent assessments. We check to see if our material is breathable, allowing for the proper release of moisture. We exposed our fabrics to intense UV rays to make sure our fabrics do not fade over time. We go through a series of stress test to make sure the materials hold up for everyday conditions. Above all, our covers are checked before reaching our customer to ensure quality.