ALUMINUM FISHING BOATS - WALK THRU WINDSHIELD
ABOUT WALK THRU WINDSHIELD BOATS
Calling all fishermen! The Aluminum Fishing Boat is the perfect way to get out on the water whether you're just learning to fish or have been doing it for years, providing the optimal boat for all your fishing needs.

The Aluminum Fishing boat is the perfect size for cruising around the lake, and it's small enough to traverse into shallower waters for optimal fishing conditions. Another advantage of having a boat this size is the portability, allowing it to be easily stored or attached to a trailer so you don't have to worry about storage expenses! Just attach it to the back of a truck and you're ready to go! This boat also includes pivot seats in the cock pit, and sometimes offers pivot seats in the front and the rear, so you aren't hindered by a stationary chair while waiting for that grand catch.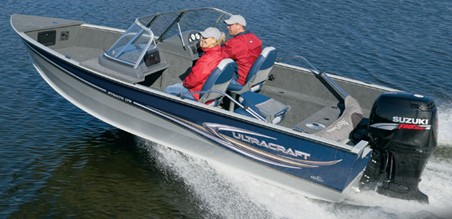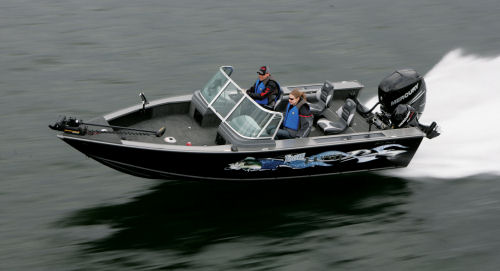 ALUMINUM FISHING BOAT - WALK THRU WINDSHIELD FEATURES:
Split through high windshields offer protection to the driver in the cock pit, but also allow access for passengers to walk through to the front of the vessel

Usually offers a two seat sitting area in the front and rear

Great size for cruising around the lake and taking advantage of the size to go where larger boats can't travel

Perfect for hunting on the river because of the discreteness and small size

The size makes them convenient for storing at home, and some styles are even small enough to put on the top of a car for easy transportation
---

ALUMINUM FISHING BOATS - WALK THRU COVERS
After you have purchased the boat of your dreams the final step is choosing the right cover. A good cover extends the life of your aluminum fishing boat, and it's the simplest and most effective way to preserve your investment. Feel free to choose from any one of our three quality covers that include our best seller, Windstorm.
ALUMINUM FISHING - WALK THRU SPECIFICATIONS:
---
Size: 8 ft -24 ft
---
Propelled by: Outboard Engine and/or Man Power
---
Producers: Weldcraft, Polar Kraft, Tracker Boats
---
---