PONTOON BOAT COVERS BY OUTDOOR COVER WAREHOUSE
Outdoor Cover Warehouse is the leader of Pontoon Boat Covers to fit all sizes and styles of Pontoon Boats. From Pontoon Boats ranging in size from 12 to 34 feet long, Outdoor Cover Warehouse always offers a variety of high-quality covers in a range of price points. Choose from four distinctive brands with features like solution-dyed waterproof fabric and a secure fit reinforced sewn-in shock cord.
Call our USA based Pontoon boat cover experts for assistance. 833.228.7328.

YOU CAN'T BEAT OUR BOAT COVERS FOR PONTOON BOATS
Outdoor Cover Warehouse offers four pontoon boat cover brands: WindStorm™, WindStorm™ Elite, WindStorm™ CoolTech, and SilverCloud. All of our pontoon boat covers are made using durable waterproof marine grade fabrics that resist UV rays and mildew to keep your boat looking pristine for years to come.
Shop our large selection of pontoon cover styles for Winter storage. A mooring cover for pontoon boat types is also a smart buy for those times you want to cover your boat while it's in the water.
WINDSTORM™ ELITE PONTOON BOAT COVERS
The cut-and-sew designs of the WindStorm™ Elite pontoon boat cover combines detailed craftsmanship with durable solution-dyed Sunbrella or Sunflair fabrics to deliver a boat cover that is waterproof and made to last. The Windstorm™ Elite boat cover is as beautiful as it is durable, available in 16 vibrant colors. We stand behind this cover 100%, which is why we offer an industry best 10-year warranty.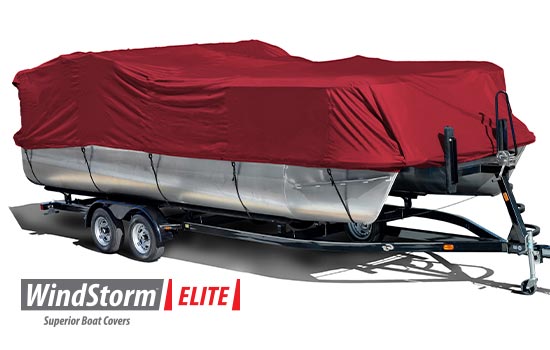 WINDSTORM™ COOLTECH PONTOON BOAT COVERS
Windstorm™ CoolTech pontoon boat covers feature advanced performance Aqualon Edge material that is waterproof and deflects 30% more heat than other fabrics. Windstorm™ CoolTech features a unique venting system with two large built-in vents, to keep hot air from being trapped inside the cover creating mold and mildew. This cutting-edge boat cover comes in five vibrant colors that won't fade.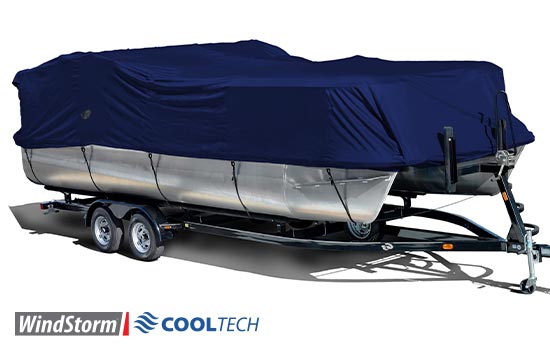 WINDSTORM™ PONTOON BOAT COVERS
WindStorm™ pontoon boat covers offer a semi-custom fit made from solution-dyed polyester that offers long-lasting color stay. WindStorm™ is the best fitting, longest lasting, semi-custom boat cover on the market today. Marinex boat fabric features an advanced UV and mildew resistant coating for an attractive cover that will outlast and outperform many other covers on the market.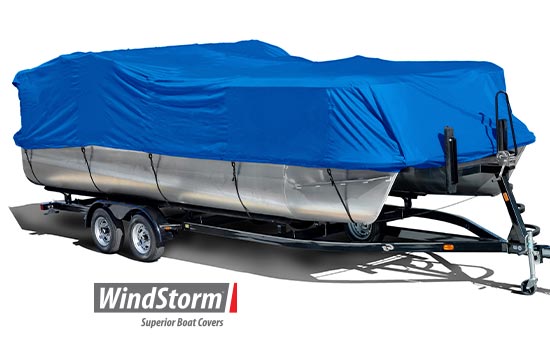 SILVERCLOUD PONTOON BOAT COVERS
SilverCloud pontoon boat covers have Durapel coating technology for superior resistance against water and UV rays. Made from 600D polyester, the SilverCloud series offers sleek and superior quality covers that are trailerable and designed for long-lasting durability. These covers will not shrink or stretch. They are made of water repellent, breathable material for all-weather protection.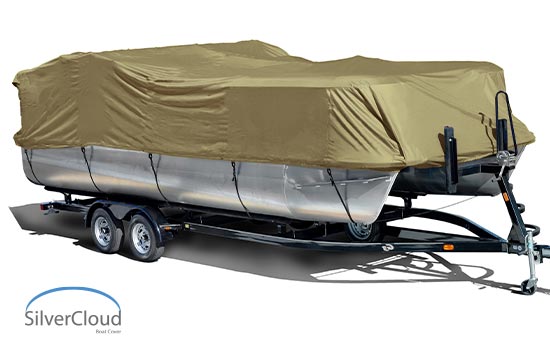 ABOUT PONTOON BOATS
With lengths up to 30 ft this boat can hold up to 25 people, making it the perfect boat to take a large number of passengers out on the water. Don't let the size fool you because it may be a huge boat, but it can still reach speeds up to 50 mph - sometimes even faster! With speeds like that this boat is also perfect for water skiing, tubing, wake boarding or any other water sport.
With so much deck space there is also a lot of available onboard storage so you don't have to worry about your boat becoming cluttered. The pontoon boat is also perfect for the budget conscious with entry level models that are generally cheaper than the standard V Hull Boat.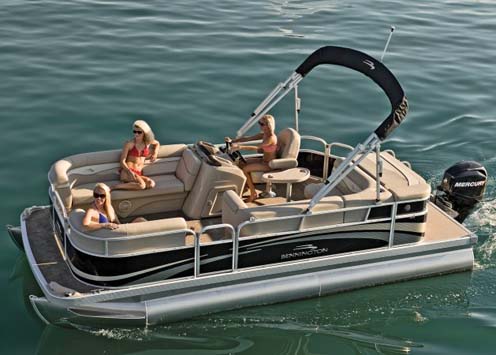 PONTOON BOAT TYPICAL FEATURES:
Large passenger capacity

Great for water sports like skiing and tubing

Provides ample seating areas as well as a large walking deck

Speeds up to 50 mph and sometimes even faster depending on the make

Ability to have a family reunion - on a boat! That's how big they are!

Constructed with float tubes on a connected flat deck

Usually powered by an outboard engine and stern drive engine. These engines allow pontoons to sometimes reach speeds that match that of a v-hull

Generally cheaper than standard V-hull boats
ABOUT PONTOON BOAT WITH RAILS COVERS
What's the point of buying a boat if you don't take care of it, right? That's why we have designed some of the highest quality Pontoon covers to keep your boat protected against the harshest elements. Pick from several options of boat covers including our best seller, Windstorm, which is built to last against the harshest of UV rays and the coldest of winter frosts.
PONTOON BOAT WITH RAILS SPECIFICATIONS:
---
Size: 13 ft - 30 ft
---
Propelled by: Outboard Motor and Sterndrive
---
Producers: Apex Marine, Bennington Marine, South Bay Pontoons, Play Craft Boats
---