BAY BOAT - ROUNDED BOW, CENTER CONSOLE, HIGH BOW RAILS
ABOUT BAY BOAT ROUNDED BOW,CENTER CONSOLE, WITH HIGH BOW RAILS
A Bay Boat is perfect for family getaways or fishing with friends. A Bay Boat can hold up to five onboard passengers and stretches up to lengths of 30 ft. It is also designed with a deep hull that enables this boat to cut through deep waters with ease.
The Bay Boat has a deep hull, but it is suprisingly light, allowing drivers to use lighter outboard engines for less gas consumption. The high railing on the front also allows passengers to go out to every edge of the boat while feeling safe and protected, making this boat ideal for family getaways.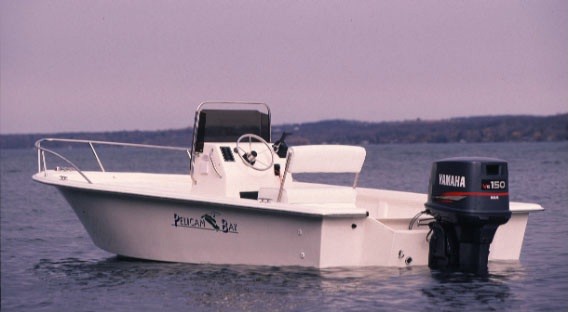 BAY BOAT ROUNDED BOW, CENTER CONSOLE, WITH HIGH BOW RAILS FEATURES:
The deep hull on this bay boat allows for cutting through choppier, deeper waters

The high beams allow passengers to capitalize on the size of the boat by going out to the edges without fear of falling into the water

Some models are so light that they can run on smaller outbard engines, allowing the boats to go farther without using up as much gas
---

ABOUT BAY BOATS WITH ROUNDED BOW, CENTER CONSOLE AND HIGH BOW RAIL COVERS
Help extend the lifetime of your investment by purchasing a high quality cover for your Bay Boat. These excellent covers are made of the highest quality so your boat will stand the test of time. Check out the great prices on all four of our covers including our best seller, WindStorm, which is trailerable and has a 7 year warranty! Call us today to begin protecting your investment tomorrow!
BAY BOAT ROUNDED BOW, CENTER CONSOLE WITH HIGH BOW RAIL SPECIFICATIONS:
---
Size: 17 ft - 30 ft
---
Propelled by: Outboard Motor
---
Producers: Edgewater Powerboats, Ranger Boats, Skeeter Boats
---
---
OUT OF STOCK
We're Sorry. The item you have selected is currently Out of Stock. Please make an alternate selection. If you need assistance please call 800-616-0599.