BAY BOAT - ROUNDED BOW WITH CENTER CONSOLE
ABOUT BAY BOAT ROUNDED BOW WITH CENTER CONSOLE
Want the most ideal boat for fishing out on the lake? If so, you need a Bay Boat! These boats were designed with deep hulls so drivers can easily cut through deeper water and choppier waves with grace.
These boats stretch up to lengths of 30 ft allowing for a capacity of six onboard passengers. These boats include a center console with a bench so you can drive with a shotgun passenger.
This boat also have a lot of onboard storage space for your fishing equipment. Due to a lot of open space it provides the perfect platform for fishermen. Both the rear and the front are flat and wide open, so when the boat is stopped you can cast away from any spot on the boat without worrying about obstructions.


BAY BOAT ROUNDED BOW WITH CENTER CONSOLE FEATURES:
This style of bay boat allows fisherman to go to the edge of their boat for a better catch

These boats have a much flatter front deck, making it easier to utilize the front of it

However, they are still capable of going out into deeper waters with ease due to the deeper hull

The center console is usually pretty small leaving lots of room to put plenty of passengers on board

Due to the flatter surface of the bow there is plenty of storage room up front
---

ABOUT BAY BOATS WITH ROUNDED BOW WITH CENTER CONSOLE COVERS
It is crucial as a boat owner that you purchase a quality, long lasting cover to protect your Bay Boat against harsh elements. Check out some of our quality covers that are designed specifically for your Bay Boat, including WindStorm brand featuring Sunbrella.
BAY BOAT ROUNDED BOW WITH CENTER CONSOLE SPECIFICATIONS:
---
Size: 16 ft - 30 ft
---
Propelled by: Outboard Motor
---
Producers: Velocity Powerboats, Hewes Boats, Triumph Boats
---
---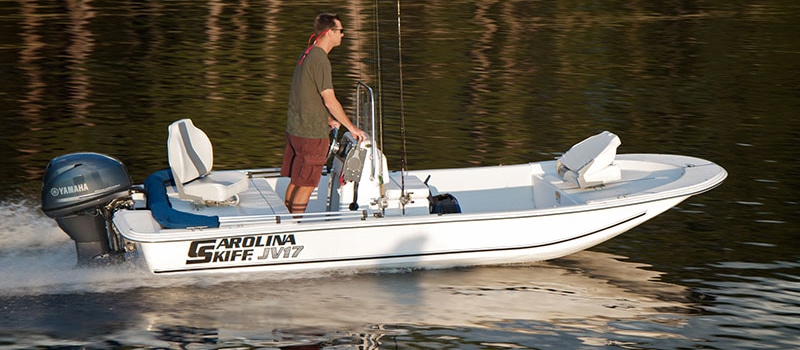 OUT OF STOCK
We're Sorry. The item you have selected is currently Out of Stock. Please make an alternate selection. If you need assistance please call 800-616-0599.