CUDDY CABIN HARD TOP / T-TOP
ABOUT CUDDY CABIN WITH HARD TOP
If you like the style of a Cuddy Cabin boat then you'll absolutely love the Cuddy Cabin Hard Top! The addition of the Hard Top adds a small cabin to your boat that keeps you and your boat's instruments protected from the elements. The Hard Top on the Cuddy Cabin creates a permanent on deck shelter from the sun, and makes motoring through rain and spray more comfortable.
This boat is the same as the Cuddy Cabin with a large open seating area in the rear, a seated cock pit and lots of onboard storage. There's also an enclosed cabin down below which often features a restroom, kitchenette and sleeping berth. On top of all of these wonderful features the Cuddy Cabin is also regularly equipped with rod holders, downriggers and bow rails.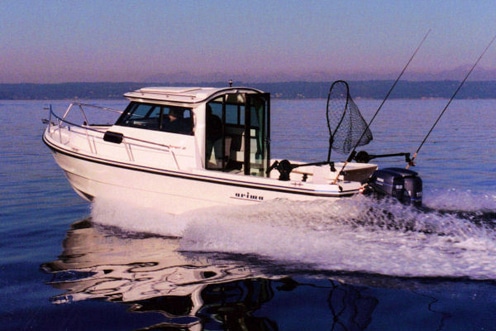 CUDDY CABIN WITH HARD TOP FEATURES:
Hard top cuddy cabin adds another feature to your boat to keep you protected

The Hard top / T-top provides shelter from the sun and rain

Boat also provides a convenient under-deck cabin for overnight or weekend fishing trips

Typically a deep V hull design makes these boats perfect for cutting through larger waves

A 365 degree walkaround for fishing, deck storage and flexible seating
---

ABOUT CUDDY CABIN WITH HARD TOP COVERS
Help extend the lifetime of your boat with the purchase of one of our high quality covers. These covers are made from the finest of materials to protect your boat from harsh rain and sun rays that can deteriorate your boat over time. Choose from several brand names including our best seller, WindStorm, which is trailerable, water proof and comes with a 7 year warranty. We're sure you'll love it!
CUDDY CABIN WITH HARD TOP SPECIFICATIONS:
---
Size: 16 ft - 28 ft
---
Typically Propelled by: Outboard Engine
---
Producers: Bayliner, Boston Whatler, Sea Chaser
---
---