SKI BOAT WITH LOW PROFILE WINDSHIELD


ABOUT SKI BOAT WITH LOW PROFILE WINDSHIELD
These sporty machines will leave everyone breathless as you race by in your sleek, powerful ski boat. These boats reach lengths up to nearly 30 ft and were built to glide over waters at high speeds.
This style of ski boat allows for fewer passengers with a closed stern deck, but that allows the boat to go faster than regular ski boats. These boats are also designed with a swim platform that make them ideal for wakeboarding, water skiing, tubing or any other water sports you can imagine!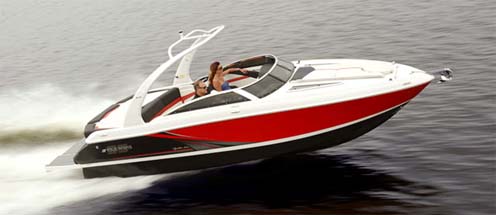 SKI BOAT WITH LOW PROFILE WINDSHIELD FEATURES:
Sleek, powerful and beautiful

Designed for top speeds and few companions this boat will take you soaring through the open waters of your favorite lake, pond or any body of water for that matter

This style often has a flat deck with the capacity for 3 or 4 passengers in the open cockpit

No bow or stern seating but this gives the boat a much classier sleek look to it
---

ABOUT SKI BOAT WITH LOW PROFILE WINDSHIELD COVERS
No boat is complete without a good cover! Without a cover your boat is bound to suffer the consequences of being exposed to harsh elements like UV rays and rain. With a quality cover you can avoid these negative repercussions, and also avoid expensive maintenance costs. Check out some of our amazing covers, featuring top brand names like Sunbrella and WindStorm. Purchase one of our covers today and let the fun begin!
SKI BOAT WITH LOW PROFILE WINDSHIELD SPECIFICATIONS:
---
Size: 18 ft - 28 ft
---
Propelled by: Outboard Motor and Jet Propulsion
---
Producers: Sea-Pro Boats, Tahoe, Bryant
---
---