ABOUT TOURNAMENT SKI BOATS
The Ski Boat is a proven favorite among athletes because it's great for water skiing, wake boarding, knee boarding or any other water sports. Not only does a ski boat have the power to run in races, but it also has style and grace to spare. The sleek design gives it a sporty look as it cuts through the waves displaying a stunning combination of power and handing.
The design of the boat is also great for fishing if you just feel like taking it easy on the water. The stern sitting area allows others to accompany you while you drive from the side cock pit, which is protected by high windshields. This boat is sure to satisfy whether you're out fishing for the day or racing across the lake doing your favorite water sports.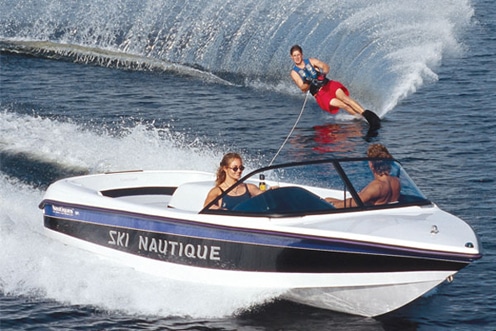 TOURNAMENT SKI BOAT FEATURES:
Proven supreme when it comes to water sports by enabling athletes to use these boats for water skiing, wake boarding or knee boarding

Superior and elegant design allows graceful easy handling across the water

Reaches speeds up to 50 mph or more!

Ski boat owners can sometimes get as many as three motors on the back of the boat to increase speed

The boat design is also great for fishing if you just want to take it easy
---

ABOUT TOURNAMENT SKI BOAT COVERS
Protect your ski boat from too much rain or sun with a superior cover, and extend it's life by keeping your boat running smoothly. Help protect your investment with one of our high quality Ski Boat Covers designed to protect your boat from weather damage for many years to come. Choose from any of our top quality brands that include our best seller, WindStorm.
TOURNAMENT SKI BOAT SPECIFICATIONS:
---
Size: 16 ft - 22 ft
---
Propelled by: Outboard Motor and Jet Propulsion
---
Producers: Centurion, Malibu, MasterCraft
---
---