ABOUT PONTOON BOATS
With lengths up to 30 ft this boat can hold up to 25 people, making it the perfect boat to take a large number of passengers out on the water. Don't let the size fool you because it may be a huge boat, but it can still reach speeds up to 50 mph - sometimes even faster! With speeds like that this boat is also perfect for water skiing, tubing, wake boarding or any other water sport.
With so much deck space there is also a lot of available onboard storage so you don't have to worry about your boat becoming cluttered. The pontoon boat is also perfect for the budget conscious with entry level models that are generally cheaper than the standard V Hull Boat.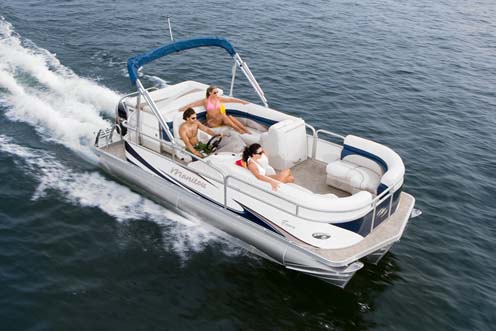 PONTOON BOAT TYPICAL FEATURES:
Large passenger capacity

Great for water sports like skiing and tubing

Provides ample seating areas as well as a large walking deck

Speeds up to 50 mph and sometimes even faster depending on the make

Ability to have a family reunion - on a boat! That's how big they are!

Constructed with float tubes on a connected flat deck

Usually powered by an outboard engine and stern drive engine. These engines allow pontoons to sometimes reach speeds that match that of a v-hull

Generally cheaper than standard V-hull boats
---

ABOUT PONTOON BOAT WITH RAILS COVERS
What's the point of buying a boat if you don't take care of it, right? That's why we have designed some of the highest quality Pontoon covers to keep your boat protected against the harshest elements. Pick from several options of boat covers including our best seller, Windstorm, which is built to last against the harshest of UV rays and the coldest of winter frosts.
PONTOON BOAT WITH RAILS SPECIFICATIONS:
---
Size: 13 ft - 30 ft
---
Propelled by: Outboard Motor and Sterndrive
---
Producers: Apex Marine, Bennington Marine, South Bay Pontoons, Play Craft Boats
---
---