V HULL FISHING BOAT WITH CENTER CONSOLE AND T-TOP
ABOUT V HULL FISHING BOATS WITH CENTER CONSOLE AND T-TOP
The V Hull Fishing boat was specifically designed to satisfy the needs of fishermen and hunters. This boat has everything you could possibly desire for optimal fishing and hunting conditions. This model was designed with a deep V hull to enable drivers to cut through deep choppy waves. With this boat's versatile design you can go just about anywhere!
With this boat reaching lengths up to 36 ft there is plenty of open room on deck for passengers. Also there are many different hidden onboard storage compartments, so your boat won't get cluttered with fishing gear. The wide open deck allows fishermen to cast off from any spot on board, allowing for the possibility of a better catch. This model also features a T-Top that comes in handy when you're out fishing on the lake all day. The T-Top provides portable shade that can easily be put up or down. The T-Top can also protect you against light rain, so the fun never has to end!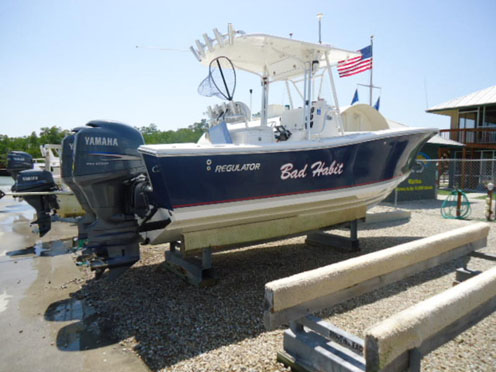 V HULL FISHING BOAT WITH CENTER CONSOLE AND T-TOP FEATURES:
The T-Top offers a huge advantage for people who plan to be out on the water for extended amounts of time because it allows drivers to stay shaded and protected from harmful UV rays

Some models have collapsible T-tops that easily dismount when driving at higher speeds

The speed and stability make this the ultimate boat for fishing or skiing

Excellent onboard storage available

Two seats for a driver and companion along with open seating in both bow and stern

Low sides make fishing easy
---

ABOUT V HULL FISHING BOATS WITH CENTER CONSOLE AND T-TOP COVERS
Keep your boat safe against weather's harshest elements by purchasing a quality cover! Our covers are some of the finest on the market with high quality materials from Sunbrella that are durable, waterproof and trailerable. You can choose from three top quality options that include our best seller, WindStorm. Be sure to purchase a cover today to protect your investment tomorrow!
V HULL FISHING BOAT WITH CENTER CONSOLE AND T-TOP SPECIFICATIONS:
---
Size: 16 ft - 36 ft
---
Propelled by: Outboard Motor, Sterndrive
---
Producers: Lowe, Triumph Boats, Alumacraft
---
---