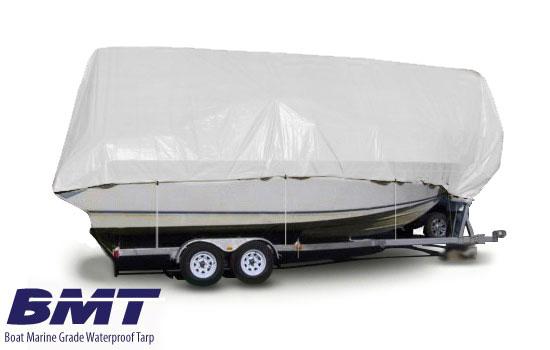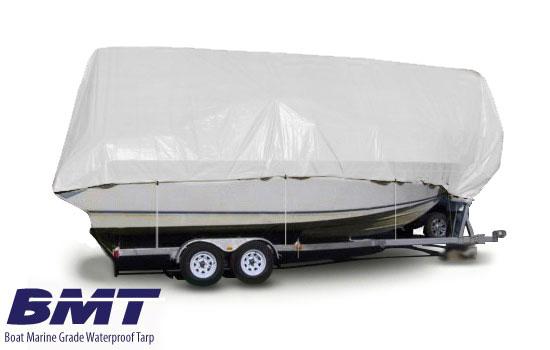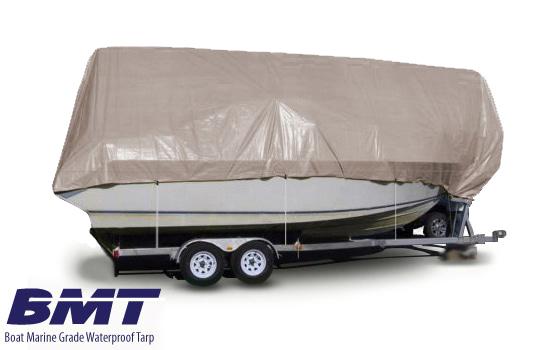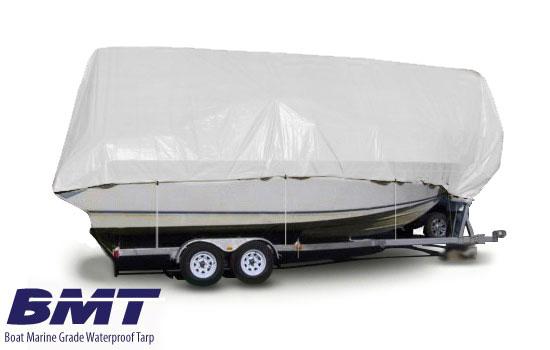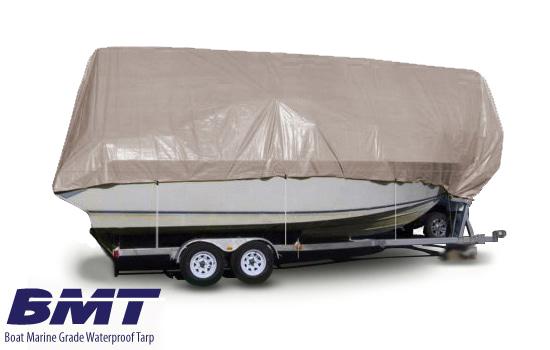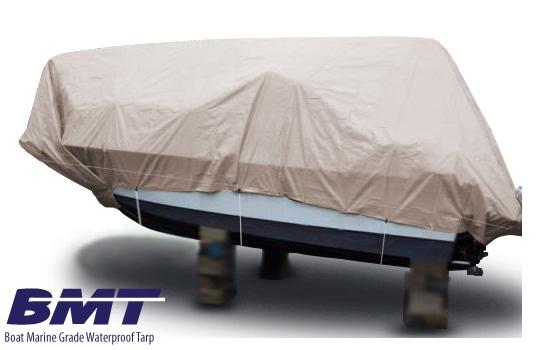 Quick and easy to install. Provides excellent coverage.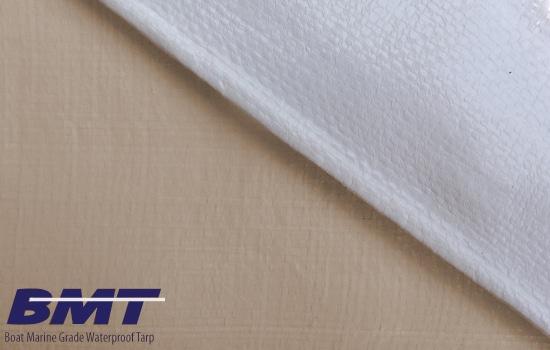 High tech 1200D materials available in 2 colors.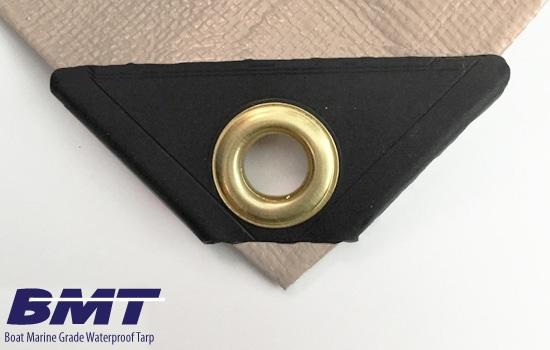 Rubberized reinforced corner grommets for extra strength.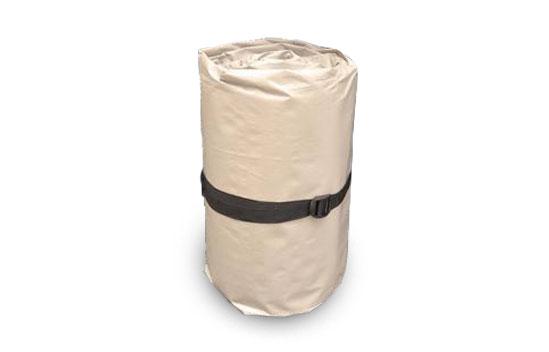 Easy to roll-up and store away.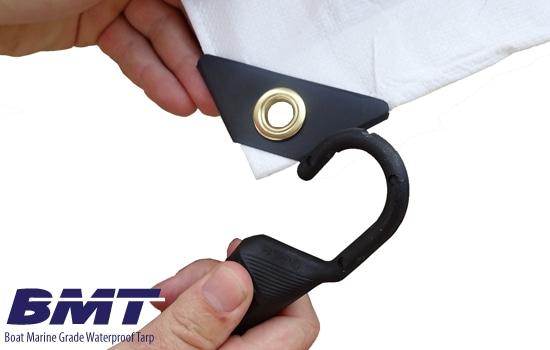 OPTIONAL: Quickly and easily secure your tarp using 6 foot long bungee cords.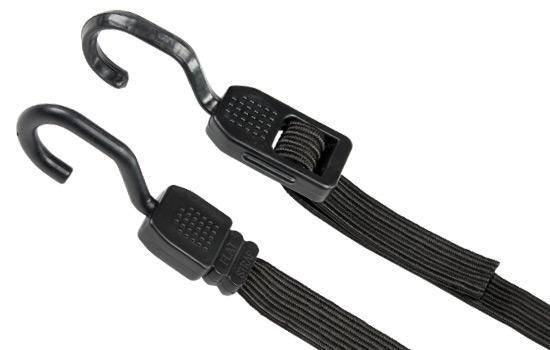 OPTIONAL: Oversized Adjustable Strap Hooks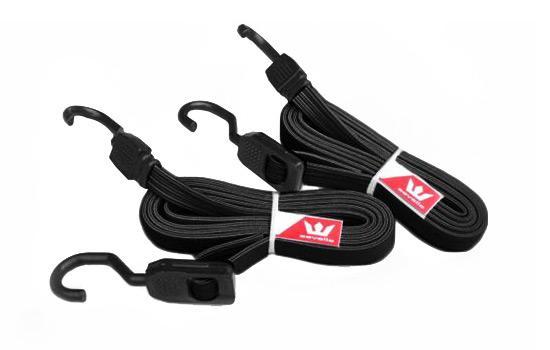 OPTIONAL: 8 pack of adjustable flat nautical bungee straps
Product Photos
---

BOAT MARINE TARP WATERPROOF COVER
This Boat Marine Tarp is specially designed to keep your boat waterproof and cool unlike many standard poly tarps. These heavy duty, outdoor boat tarps can endure all weather systems and high levels of wear and tear, but are uniquely suited for situations that require a bit more waterproofing.
Our BMT tarps are constructed from thick polyethylene and contain a 12 x 14 mesh count, allowing for the right blend of coverage and breathability. These poly tarps resist mildew, acid and mold build up by letting a small amount of air to pass through, helping keep your vehicle completely clean and dry. These tarps are also UV treated with our Durapel weather finish to protect your roof from harmful sun rays that can cause fading, cracking and warping.
Each BMT tarp is fashioned with grommet tie down points that are 18 inches apart, plus reinforced corner guards for long-term durability. The 1,200 denier count material promises to deliver arctic flexibility, so it will function well in freezing temperatures and blistering heat.
The BMT Tarp is designed to fit many styles of boats including bass boats, V hull runabouts and performance boats. A quick and fully waterproof cover up has never been easier!
BOAT TARP FEATURES:
Completely waterproof tarp
Tarp covers only the boat roof
Fits easily over all accessories - seats, cabins, etc.
Easy installation
18" tie down / grommet spacing around tarp edge

1200 Denier
Super tear resistant
UV resistant
Acid resistant
Reinforced corner guards
Rope reinforced tarp edges
BOAT TARP SIZES AVAILABLE:
Sizes:
20' Long x 16' Wide Tarp (Finished Size: 19'6" x 15'6")
24' Long x 16' Wide Tarp (Finished Size: 23'6" x 15'6")
30' Long x 16' Wide Tarp (Finished Size: 29'6" x 15'6")
40' Long x 20' Wide Tarp (Extra Wide) (Finished Size: 39'6" x 19'6")
50' Long x 20' Wide Tarp (Extra Wide) (Finished Size: 49'6" x 19'6")

Colors:
OUT OF STOCK
We're Sorry. The item you have selected is currently Out of Stock. Please make an alternate selection. If you need assistance please call 800-616-0599.
The item you have selected is currently Made To Order. Order will be changed into Made To Order.
CUSTOM PRODUCT
PLEASE NOTE: The item you selected is considered a custom product. As such, it is not eligible for a refund once the order has been placed.
If you understand and agree to this condition, and would like to continue with your purchase, click the "Agree" button below.
For assistance, please call 800.616.0599