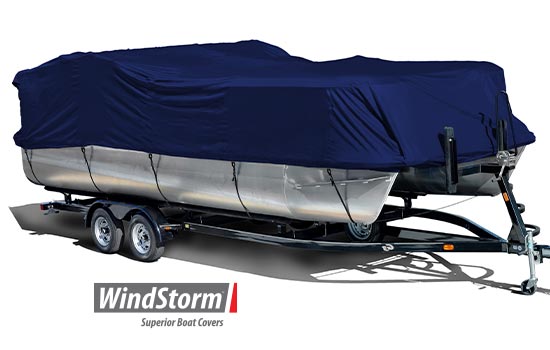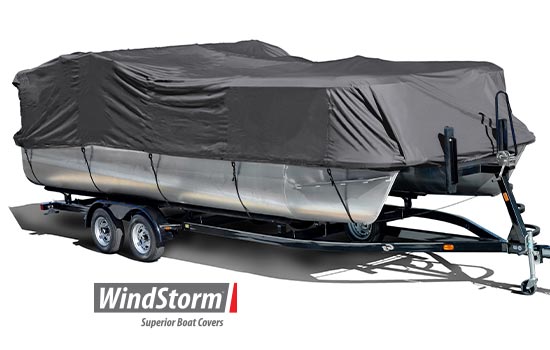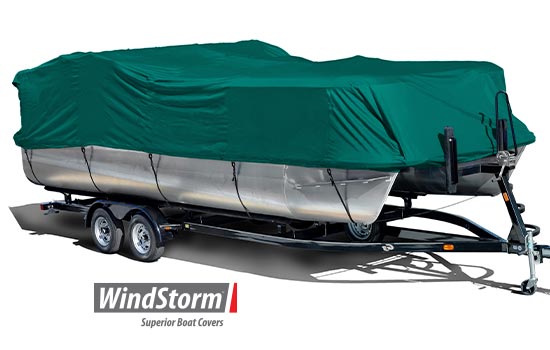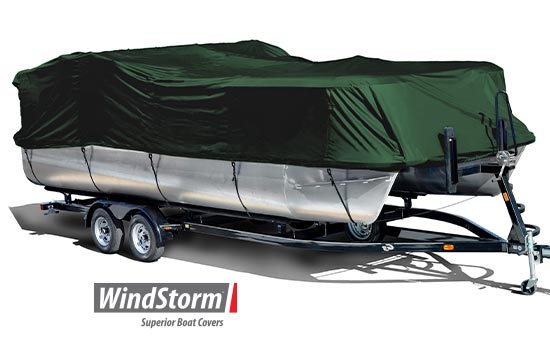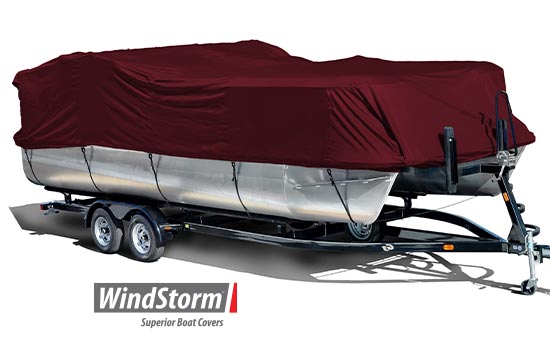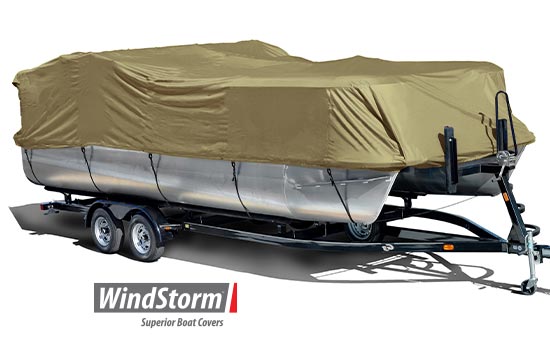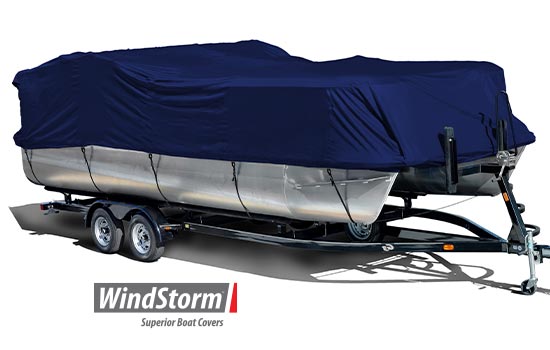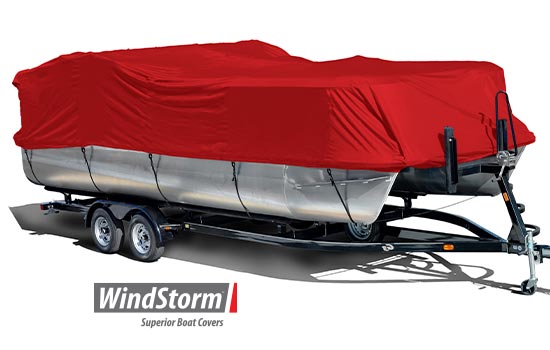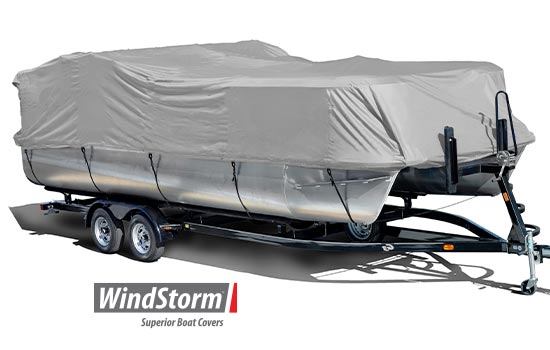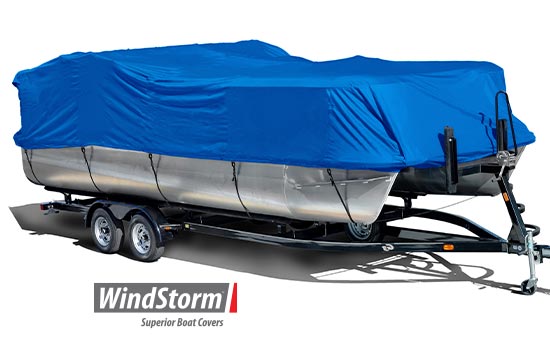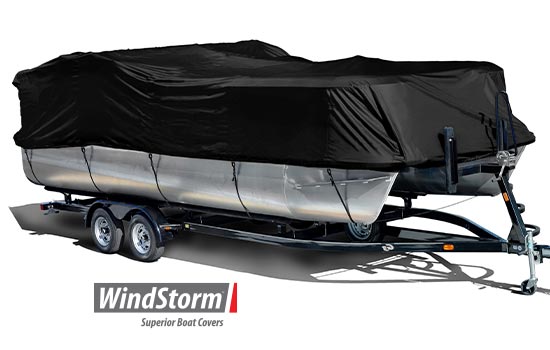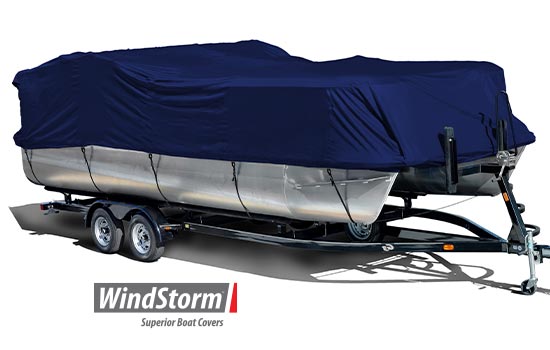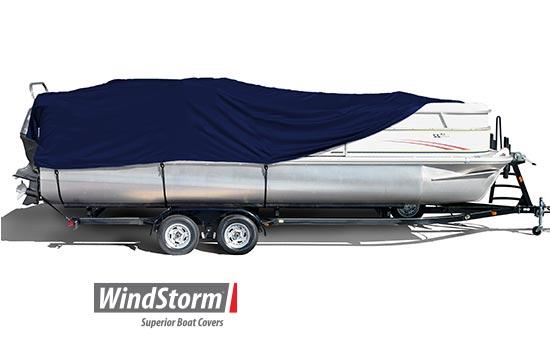 WindStorm™ boat covers are created from solution dyed fabric which results in a vastly superior product that will hold color longer and remain much stronger.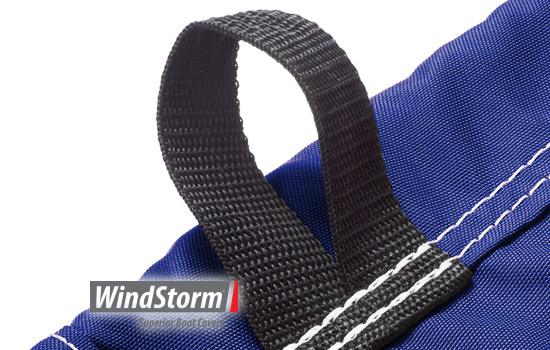 Sewn in marine grade straps for a secure tie down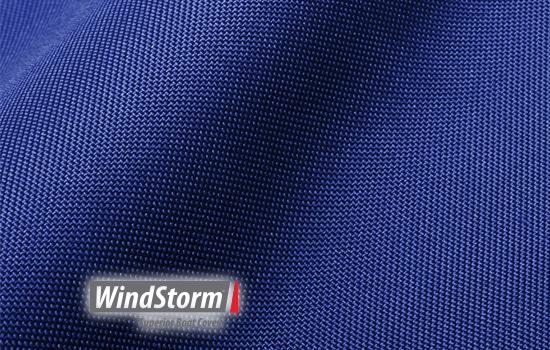 600D solution dyed polyester fabric for vibrant colors and long life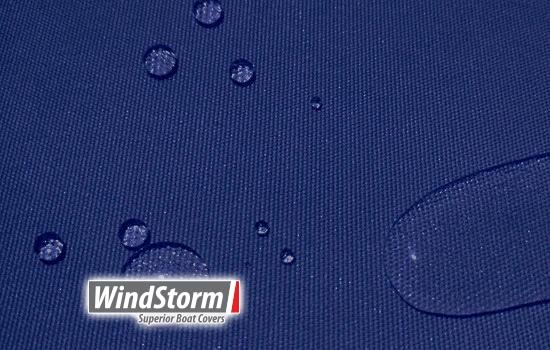 Waterproof marine grade fabric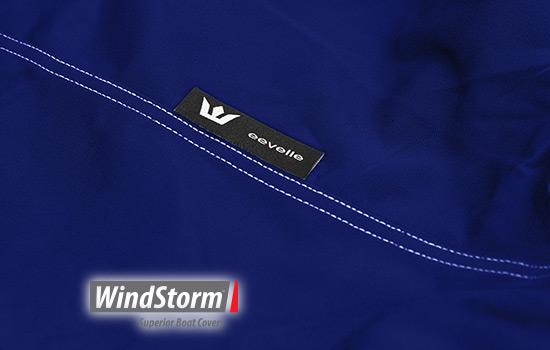 Precision Tailored with No Raw Edges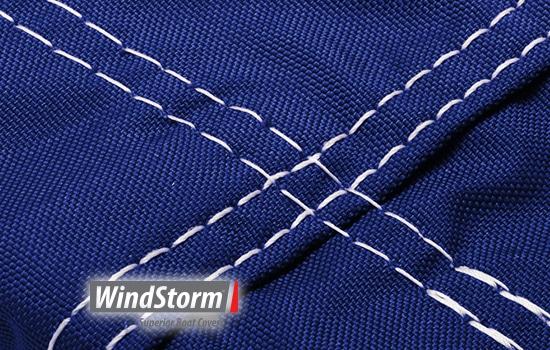 Double stitched with marine grade mildew resistant thread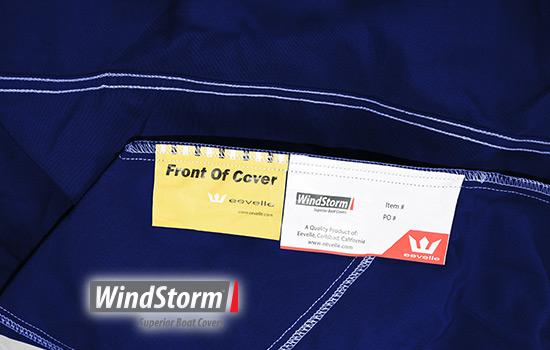 Precision tailoring. No raw edges. Reinforced stress areas.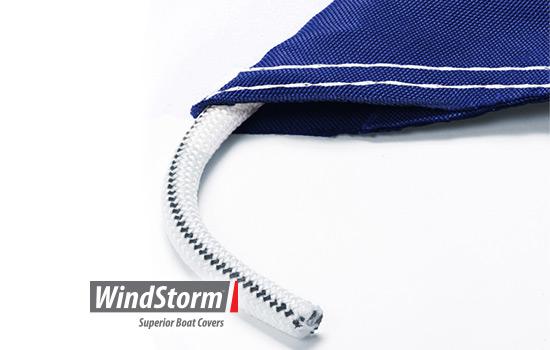 Heavy duty shock cord sewn into the hem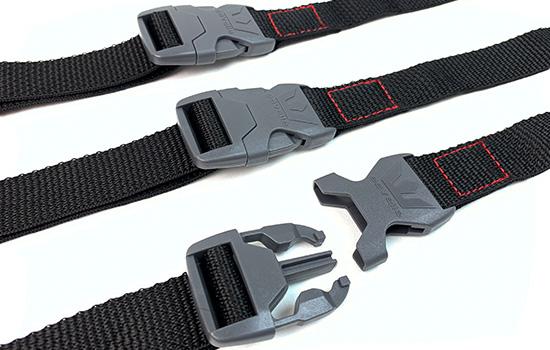 (12) XT Pro marine grade straps included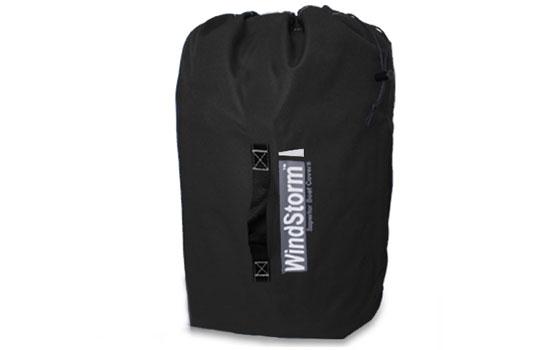 Free Storage Bag included with your WindStorm™ boat cover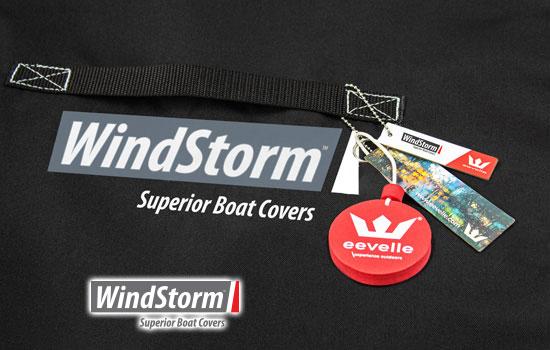 WindStorm™ boat covers are built with waterproof and breathable material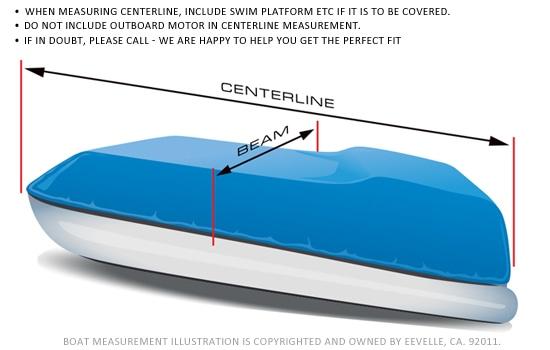 Pontoon Boat Cover Measurement Guide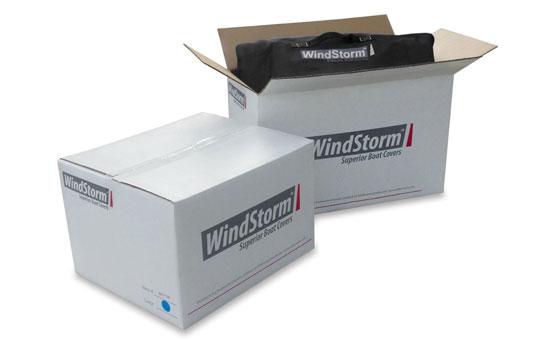 Our boat covers are made to order and ship free in the continental USA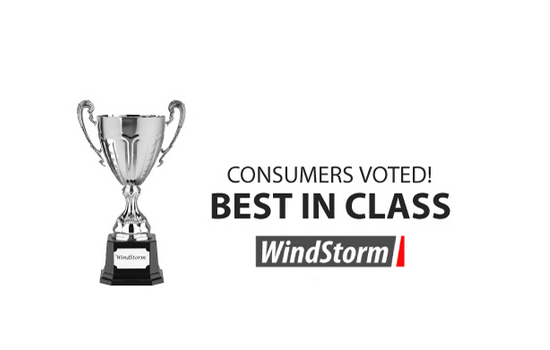 Rated best in customer satisfaction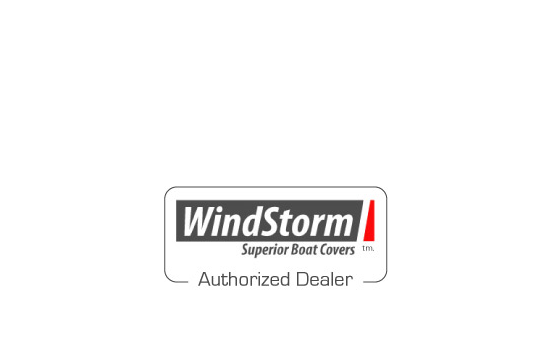 Authorized WindStorm™ dealer
Product Videos

Product Photos

CUSTOMER PHOTOS

SHARE

CUSTOMER PHOTOS

SHARE
---

WINDSTORM™ SEMI-CUSTOM BOAT COVERS
If you like Sunbrella, you will love the exclusive Marinex fabric used for WindStorm™ covers. WindStorm™ is the best fitting, longest lasting Semi-Custom Boat Cover on the market today! We've tested it and agree that this is a much better and stronger cover than the imitations seen on other sites. The superior quality is obvious in the feel of the material and the strength of the construction.
WINDSTORM™ - SOLUTION DYED DIFFERENCE
When you want a boat cover that is going to stand the test of time it simply MUST be made of solution dyed fabric. This process dyes the yarn before it is crafted into cover material. The solution dye process results in a vastly superior product that will hold color longer, and remain much stronger than a cover made from a post-dyed fabric.

Now featuring Marinex yarn treatment for improved performance and longer life.
IT'S THE FEATURES THAT SET THIS COVER APART
WindStorm™ covers are created from solution dyed fabric that is exclusive to the brand. They also feature Marinex yarn treatment, which is an advanced UV and mildew resistant coating. The final result is a beautiful cover that will out last and out perform many other covers on the market. Each WindStorm™ semi-custom cover pattern is carefully engineered to produce a cover that is easy to apply yet snug enough to provide a high performance fit. All WindStorm™ covers are handmade with a careful attention to detail, and the pride really shows in the final product. All WindStorm™ Semi-Custom Boat Covers are backed by an unbeatable 7 year warranty that includes a heavy duty strap set, and matching motor cover (or mesh bag for PWCs) that doubles as a stuff sack. WindStorm™ has been proven to deliver outstanding long lasting protection season after season.
WINDSTORM™ COVER FEATURES:
WindStorm™ Marinex fabric
600D, 6.9 oz. solution dyed polyester
Handcrafted in North America
Expert patterned fit
7 Year "Best Industry Warranty"
Waterproof and breathable material
UV inhibitor for those ultra hot days
Heavy duty shock cord hem for snug custom-like fit
Matching motor cover/mesh bag (PWC) & tie down straps included
Rated "Best in Customer Satisfaction"
THE BEST BOAT COVER YOU CAN BUY
WindStorm™ is a high-quality line of semi-custom, fully trailerable boat covers. All WindStorm covers are available in bold colors of extremely durable marine-grade fabric. The covers are solution dyed, providing superior fade resistance and ensuring the color will never bleed.
OUT OF STOCK
We're Sorry. The item you have selected is currently Out of Stock. Please make an alternate selection. If you need assistance please call 800-616-0599.
The item you have selected is currently Made To Order. Order will be changed into Made To Order.
CUSTOM PRODUCT
PLEASE NOTE: The item you selected is considered a custom product. As such, it is not eligible for a refund once the order has been placed.
If you understand and agree to this condition, and would like to continue with your purchase, click the "Agree" button below.
For assistance, please call 800.616.0599